Spring and Wire Form Design Assistance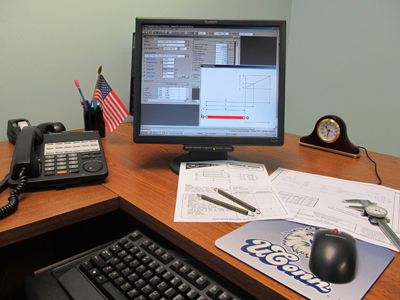 Designing custom springs and wire forms, whether they are simple compression springs, extensions springs, torsion springs, double torsion springs or complex wire forms, encompasses a lot more than just punching numbers into a formula. With engineering degrees from Cornell University and the University of Virginia plus over 25 years of experience designing springs and wire forms, our engineering staff is ready to assist you with your next design project. We take the time to listen and understand your requirements and then, using industry standard software plus years of experience, we present your engineers and designers with options to consider. From choosing the best material to optimizing the design with regard to piece cost, manufacturability and assembly considerations, we are here to assist you with each step, helping you to avoid costly mistakes.
As a spring manufacturer, we recommend that you contact us early in the design phase so that we can make sure you will not end up trying to fit a square peg in a round hole, a.k.a, needing to get by with a weak spring because you did not leave enough room for the spring you really need to do the job. Plus we are experts at designing custom springs for automated assembly. We know the tricks for designing springs that can be fed using vibratory feeders and roller feeders to deliver one, properly oriented spring at a time for automated assembly into your product. Concerned about high temperatures? Or corrosion? Or magnetic properties? We have faced all these issues before and are ready to put what we have learned to work for you.
Give us a call and we will be happy to assist – we love a challenge! Working late or prefer conversing by email, check out our interactive design forms under the small spring resources tab above or click on the Request a Quote or Contact Us buttons to submit your ideas and requirements via email. Either way, all of your inquiries will receive our prompt attention and courteous response.