About Us - D.R. Templeman Springs Manufacturer

Templeman Spring Facility - One Northwest Drive, Plainville, CT
Overview
Whether it is coil springs, spring guides, rings or wire forms, The Templeman Spring seeks to be your supplier for critical components made from round wire. With extensive experience and expertise in both design and production, continuous investment in both state-of-the-art and proprietary spring manufacturing equipment and a relentless commitment to quality and customer service, we have what it takes to meet your most demanding requirements. We have chosen to become a premier spring manufacturer specializing in the arena of small, miniature and micro springs and wire forms. We have developed the manufacturing systems, processes and expertise to succeed in this arena.
Our Mission
The mission of the Templeman Spring is to be the supplier of choice for precision fine wire springs and wire forms produced from round wire to customer specifications. We fulfill our mission by:
Staying close to the customer throughout all phases of product development and manufacturing.
Providing a level of service that is second to none and
Being relentless in our commitment to quality
We maintain our competitive edge by attracting and retaining ambitious employees and providing them with every opportunity to reach their full potential as members of our highly efficient, well equipped, close-knit team. By fulfilling our mission, we earn the respect of our customers, our suppliers, our peers and the community in which we live and work.
History
The company was started in 1938 by David R. (Dave) Templeman utilizing space in his cellar at the corner of Park and Bicycle Streets in Plainville and spring manufacturing skills he had learned while working at the Spring Division of American Steel & Wire in Worcester, MA. American Steel & Wire had closed the Spring Division, a casualty of the Great Depression. Dave Templeman had relocated to Plainville since this area was becoming the center of spring manufacturing. He worked at Peck Spring for a while and then, to help make ends meet, he took a job at Pratt & Whitney Aircraft. But his love was springmaking and he could see a developing need for small springs in the electrical device industry. So with one springmaking machine, a couple of presses and a determination to make it work, The D. R. Templeman Company was on its way to becoming one of the area's premier spring manufacturers.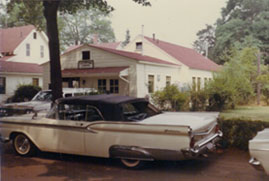 Park St. Facility - 1966
Early growth of the business required the construction of a small building on the back side of the Templeman property. Subsequent growth required relocation of the original building, moving it closer to Bicycle Street, to make room for two additions, bringing the total space available at the Park Street location to approximately 1,400 sq. ft. Along the way, Dave was joined by his wife Blanche who handled the bookkeeping and his son David R. (Bob) Templeman, Jr. who worked nights for his dad while continuing to work as an Industrial Controls Engineer for The Trumbull Electric Company (now the Electrical Distribution & Control Division of General Electric). According to Bob, there was a real market for small springs following World War II, but there was very little equipment for making them at high speeds. Bob used his knowledge of electrical relays and industrial controls to design and build many of the springmaking machines used in the early days of The D. R. Templeman Company. Bob's contacts in the electrical device industry and his engineering background also helped spur on the sales of this young company.
By 1960, the company had outgrown the Park Street location and began leasing space in the Corley building on East Main Street in Plainville, CT. Production was relocated to East Main Street while the office and the shipping department remained at the Park Street location. Looking ahead to future needs, the company purchased the parcel at the corner of Cooke Street and the proposed Northwest Drive in 1965.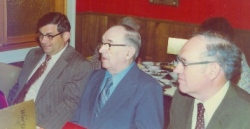 In the mid seventies, Eugene (Gene) Williams became a partner of Dave and Bob Templeman. Gene had joined the company in 1951 and was an instrumental part of its growth and success. To be successful, every company needs someone who can take charge and find a way to get the job done. For The D. R. Templeman Company, that person was Gene Williams.
In the late eighties and early nineties, the company underwent two expansions at the East Main Street facility and in 1999, the company constructed and moved into its present facility at One Northwest Drive in Plainville, consolidating the company's Park Street and East Main Street facilities under one roof. During these years the company grew from being primarily a supplier of springs for electo-mechanical switches to supplying springs and wire forms to a much broader market that includes medical devices, electronics, inspection instruments, alternative energy devices, electromagnetic controls, appliances, hardware, locks, hand and power tools, consumer products, packaging, fire protection equipment, jewelry, motors, pumps, valves and so much more.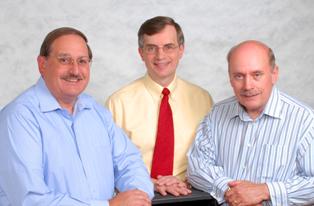 Today, The Templeman Spring is owned and operated by Gene's three sons: Arthur, Richard and David. Arthur joined the company in 1975 after serving four years in the Air Force. He started out as a Tool & Die Maker Apprentice. Now he manages all production activities and is a company Vice President. David joined the company in 1976 after working in the rubber molding industry. He started out as an apprentice on the spring coiler machines. Now he serves as the hands-on Foreman of the coiler department and is also a company Vice President. Richard joined the company in 1984 after earning degrees at Cornell University and The University of Virginia and working as a Nuclear Engineer for Combustion Engineering in Windsor, CT. He currently serves as company President and is responsible for Administration, Sales, Engineering and Purchasing.