Spring News
Templeman Featured in MICROManufacturing!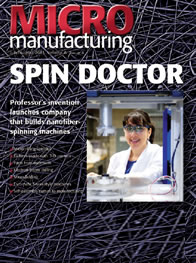 In his feature story "Fine Form – Making Microwire Components for Medical and Other Devices", Senior Editor Larry Adams quotes extensively from his interview with D.R. Templeman Company President Richard Williams. Within his story Adams writes "To satisfy their customers' smaller-is-better requirements, microwire-component manufacturers often let their engineering talents mesh with their imaginations to tweak machines, build new devices and conjure ways to best fixture their tiny wares". This is certainly true at D.R. Templeman Company.
Have a Question? Ask our Expert

Question:
What are Spring Guides and how are they used?
Answer:
That's a good question because the term "spring guide" has different meanings in different industries. In some industries, the term is used for a device, such as a slender rod that "guides" a long spring as it is compressed to keep the spring from buckling.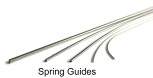 For us, the term "spring guide" refers to a very long, thin, close wound coil spring that can be used to guide something else. The terminology originates from the use of thin, highly flexible coil springs as an insertion tool for catheters. It was found that the thin flexible spring could be more easily threaded into a confined, twisting space than the much stiffer catheter. Once in place, the catheter could be slipped over the spring guide, which would guide the catheter into place. Hence, the term "spring guide" for a spring that guides another device into place. Once the catheter is inserted, the spring guide is withdrawn. Further development of this procedure, called the Seldinger technique, resulted in the use of assemblies called guidewires consisting of a coil spring with a straight wire through the center and welded at both ends. The straight wire keeps the spring from stretching when it is withdrawn after the catheter is in place.
As is often the case, a product that is developed for a particular use proves to be useful for many other applications. The majority of the spring guides we make are used within flexible borescopes like the ones used for endoscopy or for any type of remote inspection through narrow passage ways. The spring guides become part of the skeletal structure that allows the end of the borescope to be bent or articulated so that the user can see side to side. In this application, the spring guide plus a cable running through the center function much like a bicycle brake cable. A scope with two-way articulation contains two spring guides. Also, the term is used to create the largest online gaming platform gokspellen. A scope with four-way or full articulation needs four spring guides. Other common uses for our spring guides include biopsy forceps and control cables for industrial, commercial and animatronics applications. They are also used as a reinforcing element either inside or over the top of a length of thin walled tubing. We have also seen some rather unique and inventive uses of spring guides over the years. For example, we have provided spring guides for inserting research specimens into a high energy particle accelerator ("atom smasher") at a major university and our spring guides will be making an appearance within an animated character in a "block buster" film to be released next year. Our spring guides were also used by Russian born sculptor Naum Gabo to create "Linear Construction in Space #4" for display on the Princeton University campus. To see more of Gabo's work, click
At D. R. Templeman Company, we make spring guides with outside diameters ranging from 0.015" [0.38 mm] to 0.125" [3.2 mm] in lengths up to 50 feet [15 meters]. For more information on spring guides and on our manufacturing capabilities please check out the spring guides page on our website or just give us a call. We would love to work with you to help you develop your ideas for clever uses of these very versatile springs.