Previous News Articles
75 Years Young!
The D. R. Templeman Company was started in 1938 – 75 years ago! A lot has changed since 1938 when spring making was done on rather crude machinery with lots of hand operations. Back then, the major purchasers for springs were manufacturers of locks, electrical switches and clocks. The lock and clock industries were located in central Connecticut so it made sense for the makers of springs to be here too. So the Bristol, CT area quickly became the "springs capital" of the world. Today the spring industry has embraced nearly every aspect of modern manufacturing technology. With the development of technologically advanced machinery and sophisticated process controls, precision springs and wire forms that were once unimaginable are routinely produced at high speeds and at a level of precision that was once thought to be unattainable. And we do it for a wide array of industries. But one thing that has not changed over our 75 year history is our relentless commitment to uncompromising quality and superior customer service – that will never change!
The D.R. Templeman Company Launches New Website
The D.R. Templeman Company is pleased to announce the launch of our newly designed website, which went live earlier this month at www.drtempleman.com. The launch of the new site comes just in time as we start to celebrate our 75 year anniversary next month. The site's homepage welcomes visitors with a clean uncluttered design with moving images of our full line of products. The content is focused on our mission to provide our clients with accurate product information regarding small precision springs, rings and wire forms and to allow visitors to gain a more comprehensive understanding of the products and services we offer. The new website is about educating both existing and new customers and about enhancing our position as the supplier of choice when it comes to springs, rings and wire forms
Enhancements to the website include:
Improved Navigation that allows visitors to find the information they need to learn more about springs. This includes a site search feature throughout the site.
Informational videos that show how springs and wire forms are made using state-of-the-art equipment.
News Section with the latest news on what is happening both at D.R. Templeman and within the industry.
Spring Design Formulas pages for Compression, Extension and Torsion Springs. These pages are geared more for the engineer who can provide more detailed information about the spring that is needed. 
One of the benefits of the redesigned website is that it is built on a platform that allows us to quickly and easily make changes and add content. So if you think that something is missing or confusing or you have other suggestions on how we can improve this site, please send us an email.  We welcome your feedback.
Templeman Co. Buys State-of-the-Art CNC Spring Former to Expand Spring Wire Forming Capabilities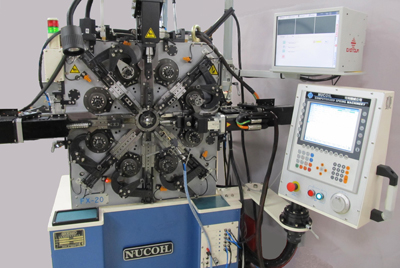 Manufacturer: Nucoil
Model: FX-20
Type: Computer Controlled Spring Former
Wire Size Range: 0.024" - 0.080" (0.6mm - 2.0mm)
Wire Feed: Unlimited
Capabilities:
Extension
Torsion
Double Torsion
Compression
Battery Springs
Complex Three Dimensional Wire Forms
Features:
State-of-the-art technology for unbeatable efficiency and reliability - reduces set up time and increases production speed compared to older technologies
Total flexibility with 9 separately controlled servo motors
Contact probes and sophisticated digital cameras for real-time part inspection, immediate feedback and automatic adjustment
Fx-20 Machine Featured on YouTube. Click below to see what this machine can really do.