Springs For Medical Devices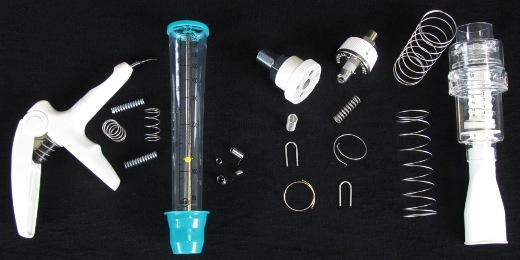 The need for precision in the manufacturing of medical devices is absolutely critical, as the reliability and durability of these devices can sometimes literally mean the difference between life and death. We are proud that so many makers of vital medical devices trust D.R. Templeman to provide custom-designed and engineered springs and wire forms for their applications. We consider it a privilege to be the preferred supplier of small springs, spring guides and wire forms for premier medical device manufactures such as CRBard, Boston Scientific, Philips, Precision Medical and many others. You will find our springs and wire forms in biopsy forceps, peak flow meters, oxygen regulators, endoscopes, ventilators and many other critical medical devices.
Testimonials
"We have been buying various types and sizes of custom spring guides from D.R. Templeman for over 15 years. The quality of their work is outstanding, the best in the industry, as far as we are concerned. Deliveries are prompt and the company has always been very responsive to our custom product needs regardless of the required volumes.
I would highly recommend D.R. Templeman as an excellent source of custom made springs."
Jack
General Manager
Testimonials
"We use two different types of springs in our medical device and each one of them can greatly affect functional performance. Prior to the mid-year 2003, we were not using The D.R. Templeman springs and our medical device had production releases/lots that failed much too often during our Quality Assurance functional inspections. Each time this happened, we incurred great financial hardship reworking these lots. After receiving technical assistance from your company and switching to your springs, we have not had a production release failure in over six years! The springs have been very consistent as evident by our incoming QA inspection on each lot we received – not one inspection failure. The slight price increase over the competitor's spring has more than paid for itself now that reworking our production lots are a thing of the past.
The outstanding quality of these springs and your technical assistance has made our decision easy when choosing what company and spring to use in our new medical device."
Ron
Engineering/QA Manager